Asian-American Forum
Winter 2013 Issue no. 16

Editor Note: The editor has decided to include articles submitted to Asian Pacific Americans for Progress (http://www.apaforprogress.org) also in this seasonal newsletter. Any cross-posted articles will be identified by name and date submitted, and the reprints here will serve to verify authorship. The particular blog can be accessed here: http://www.apaforprogress.org/blogs/chriswong.


A Century of Change in Immigration: Apology in Action – Pt. 2
In 1909, Honorable Lee S. Overman, a Democratic Senator from North Carolina introduced a bill in the Senate. If adopted, H.R. 1438 would create a head tariff "to provide revenue and at the same time to protect American labor."[1] Obviously during the late-Victorian era, the general public, organized labor, and national officials sincerely believed in the necessity of stricter deportation laws over philanthropic concerns.
Among the number of supporting remarks following Senator Overman's speech was that of National Secretary George Whitaker, who opined that:
Whereas a strict execution of the present laws makes it possible to keep out the worst of the pauper and diseased elements of our present European and Asiatic immigration, but these laws admit large numbers of immigrants who are generally undesirable because unintelligent, of low vitality, of poor physique….[2]
So many aliens were arriving, hoping in time to become naturalized U.S. citizens, that Ellis Island deportation workers' complaint about working "twelve to sixteen hours daily for $850 a year" made the New York Times in an article titled, "Plaint of Ellis Island Men—So Many Aliens to Deport That They Cannot Eat at Home, They Say" (NYT, July 7, 1909).
In August 1909, Mr. Austin introduced into the House of Representatives H.R. 12255, a bill to amend the immigration laws such that firstly, all Asiatics, except public officials, merchants, students, and travelers would be prohibited from entry into United States territories; secondly, all European adults who "can not read and write and who are not industrious, and with criminal records" would be prohibited; thirdly, all members "of the so-called Black-Hand or similar organizations or societies" would be prohibited.[3]
Every year the noise of public sentiment grew, finally culminating in the Immigration Act of 1917, and 1924. It was a time when labeled "idiots, the disabled, and the ill" were causes for deportation, regardless of their state of health at the time of arrival in the United States; and not withstanding that the immigrants had often left their home countries at great cost. [4]
Only the arrival of World War II would help reverse the unreasonable restrictions created to exclude undesirables which had expanded to include all Asiatics (Chinese, Japanese, Korean, Hindi), Southern and Southeastern Europeans, and Hebrews.[5] On December 13, 1943, President Franklin D. Roosevelt signed the Act to Repeal the Chinese Exclusion Acts, to Establish Quotas, and for Other Purposes. [6] This law only allowed a maximum of 105 Chinese immigrants per year.
It was by no means the end of immigration issues. 120,000 Japanese-Americans were abruptly relocated to remote arid concentration camps between 1942-45. The Immigration and Nationality Act of 1952 ensured stringent measures to limit immigrants to "free white persons" of "good moral character."[7] Over a million Mexican-Americans were deported under Operation Wetback in 1954.[8]
However the Civil Rights Movement of the 1960s signaled the onset of change in outlook and attitude with regard to foreigners. "The 1965 Immigration Act eliminated race-based admission criteria and instituted ones based on the would-be immigrant's skills, profession, or relationship to family in the United States."[9] Visas were extended so that wives, sons, or daughters could immigrate to the United States. The 1975 Indochina Migration and Refugee Assistance Act provided for the resettlement of, and special assistance for, refugees from Vietnam, Cambodia, and Laos.
In fact, the Congressional Budget Office reported in 2006 that "the 1965 amendments are still largely in place, although they have been modified at various times." The numerical restrictions now vary from a single annual worldwide ceiling of 290,000 to a "flexible" cap of over 675,000 per year.[10]
But up till the end of 2009, a century later, the Chinese Exclusion Laws had never been recognized as a legal source of pain, grief, or even mortality affecting many Asian immigrants for decades.
Against the historical backdrop, in 2009, Congresswoman Judy Chu, the first Chinese-American woman to ever be elected to Congress, lobbied and sponsored legislation on Resolutions Expressing Regret for the Chinese Exclusion Laws. Her persistent efforts appeared to finally have paid off.
Recently, both the Senate and the House approved Resolutions Expressing Regret for the Chinese Exclusion Laws. The Senate approved of S. Res. 201 on October 6, 2011, expressing the regret for the passage of discriminatory laws against the Chinese in America.[11] The House approved H.Res. 683 on June 18, 2012, expressed regret for the passage of legislation that adversely affected people of Chinese origin in the United States.[12]
The debate on the House Floor was unusually swift and unanimous; with the 2/3 vote necessary in order for it to pass. Among the speeches in the Congressional Record, Delegate Mr. Falaomavaega of Samoa stated that the apology is significant because of the time span of eighty years (1882-1965), and as a sign that the United States is a democracy that "tries to correct its mistakes from the past." Representative Ms. Jackson Lee of Texas stated, "The passage of this bill will make clear that we do not support those actions today." Congressman Mike Honda of California eloquently announced, "Acknowledging and addressing these injustices throughout our Nation's history not only strengthens civil rights and civil justice, but doing so brings us closer to a more educated Nation and a more perfect union." At 4:35pm on June 18, 2012, Mr. Lamar Smith of Texas had introduced the bill, followed by Dr. Judy Chu, and also Mr. Berman, who voiced the need for bipartisan support.[13]
Today, there are undoubtedly issues that have arisen after September 11th 2001, but with significantly more generous limits on immigration and naturalization, and also based on practical skill sets and/or family relations, the era of protectionism via immigration tariffs and exclusion laws seems to have passed a credible milestone.
Progressive legislators, such as Dr. Chu, will be venerated in Asian-American history not only for her daily efforts in support of immigration and labor, access to quality education, small entrepreneurs, and reducing crime, but for persistence in lobbying Congress to right a protracted historical wrong.[14]
Sources:
[1] H.R. 1438, RG 85, File No. 52324, National Archives and Record Administration (NARA), Washington, DC
[2] Ibid.
[3] H.R. 12255, Ibid.
[4] RG 85, File No. 52423, Ibid.
[5] Enforcement of Chinese Exclusion Laws, Memorandum, RG 85, File No. 52423, Ibid.
[6] Chinese Immigration and the Chinese in the United States, U.S. NARA, http://www.archives.gov/research/chinese-americans/guide.html
[7] Immigration and Nationality Act of 1952, Wikipedia, Wikipedia.org, http://en.wikipedia.org/wiki/Immigration_and_Nationality_Act_of_1952
[8] History of US Immigration Law and Policy, Grantmakers Concerned with Immigrants and Refugees, http://www.gcir.org/system/files/219-222_history_of_US.pdf
[9] Ibid.
[10] Congressional Budget Office of the United States, Immigration Policy in the United States (February 2006), http://www.cbo.gov/sites/default/files/cbofiles/ftpdocs/70xx/doc7051/02-28-immigration.pdf
[11] Senate Resolution 201, 112th Congress, Library of Congress, THOMAS, http://thomas.loc.gov/cgi-bin/query/z?c112:sr201:
[12] House Resolution 683, 112th Congress, Library of Congress, THOMAS, http://thomas.loc.gov/cgi-bin/query/D?c112:1:./temp/~c112ZLMV1d::
[13] U.S. House of Representatives, June 18, 2012, C-Span Video Library, http://www.c-spanvideo.org/videoLibrary/transcript/transcript.php?id=204475
[14] U.S. Congresswoman Judy Chu, Legislative Work, http://chu.house.gov/legislative-work
Part 1 of Regret for Chinese Exclusion Laws was published on January 11, 2011 at http://www.apaforprogress.org/regret-chinese-exclusion-laws-faces-uphill-battle-house-part-1
Research, photo-document from National Archives, and report prepared by Christine H. Wong, Free-lance Journalist
My New Year Resolution
by Christine Wong
In Chinese-American author Amy Tan's short story, "Two Kinds," Waverly Jong's chess-playing ability is compared with Jing Mei's piano-playing. "Only two kinds of daughters," shouts Jing Mei's mother, "Those who are obedient and those who follow their own mind!" Even before society has tested Jing Mei, Jing Mei's mother is ready to scapegoat Jing Mei--beat and humiliate her into becoming Waverly Jong's "competition."
Ironically, Jing Mei's greatest accomplishment becomes winning the standoff with her mother, and in the process, becoming her own true self. This story holds great meaning for me both personally and socially. (In contrast, my similar short story, "Pair of China Dolls," tells of a daughter's developing psychosis). While "Two Kinds" is a bit of a shock, I have no doubt that in Asia-Americana, there are conservatives who frown disapprovingly.
The sad fact is that too many Asian-Americans, abetted by Hollywood, accept say, David Chappelle brand impersonations, while clinging--and limiting themselves to--Type A brand exceptionalism. Either we are the "right perfect," or else.
The implications in society are evident. When I first viewed the "Racism on the Rise" article, which included a picture of a "neutral Chinese Character," I was appalled. Wonderful, I thought, how many more people will feel it's acceptable to transfer pent-up frustrations. I wondered how many read and recognized the go-get-'em subtext?
Let me be clear, as an educator. It is absolutely not okay for people to make "others" their scapegoat. Sure, there may be a psychological explanation for it called "affect misattribution," but that doesn't make it okay.
Of course, I do remember that scapegoating is rife in the genepool. Have I myself not played tag, practiced "fight or flight" instincts, and become conditioned to fagging through classes, levels, and forms? I earned my badges and rewards by putting up with hazing and bullying myself through the wee morning hours. However those were my choices, really!
It is altogether different from today's Warcraft-like interpersonal mindgames. I see brothers and amigos watch t.v. and talk football, leaving work behind. I hear sisters and chicas talk pretty, no wonk in the mirror. So why do they turn on me like sharp-shooters at park benches, check-out stands, even cash-registers? "Are you working? What do you do? What is your major? Where do you work?" And if you nibble at the bait, Thar, She Blows!, as they cried to Moby Dick, the monster whale.
So my New Year's Resolution is to no longer take crap from strangers. Do we not teach children to practice and say, "Mind your own business (MYOB)"? Did Silent Bob not say to the nosy cashier, "I make tin foil hats for a living"? Rhetorical questions aside, it is not okay for a clerk who I am not accountable to, to query, "What is your major? MA'AM, what is your MAJOR? EXCUSE ME, WHAT is YOUR MAJOR? EXCUSE ME, WHAT IS YOUR MAJOR?!" then toss the head hook of ridiculous opinions and unsought for advice when I provide an answer.
According to Manual J. Smith, author of best-seller When I Say No, I Feel Guilty, saying "No" and acting assertively actually requires training and plenty of practice. This is particularly the case when our environments--home, peers, work, culture, etc.--have conspired to drown us out.
They say I will be THAT kind of Chinese-Daughter if I tell the nosy clerk, "PLEASE DO NOT SHOUT AT ME! I am NOT obliged to talk with you! Please MIND YOUR OWN BUSINESS!" Next time, these swift firm scripts, delivered automatically, will free me from the Maze. Medusa can go crawling back to its lair.
I intend to celebrate my own sense of multicultural dignity and humanitarianism in 2013!
Sources:
"Majority of Americans racist--poll." Russia Today(RT). RT.com. 27 Oct. 2012.

Tan, Amy. "Two Kinds." Literature for Composition, 5th ed. Ed. Sylvan Barnet et al. New York: Longman, 2000.

Smith, Manual J. When I Say No, I Feel Guilty. New York: Random House, 1985.

Wong, Christine. Chasm. Fresno, CA: Columbia Press, 2012.


Memphis Charms
According to Sarah Baker of The Daily News, Memphis music and culture captured the spotlight internationally last year, and its fame is growing ("International Exposure"). Through a fortuitous travel layover, last fall found me overnighting in Memphis, Tennessee and lingering a day or so. What I found there felt like a tourist mecca, deservingly.
One of the most popular highways crossing Tennessee is Interstate 40, also known as Music Highway. This scenic route takes you right into downtown Memphis. Characteristic of me, my first stop was actually at the Chucalissa Museum at the Historic State Park. Here, I discovered that that the name "Memphis" comes from the rising platform mounds which the Mississippian Natives built.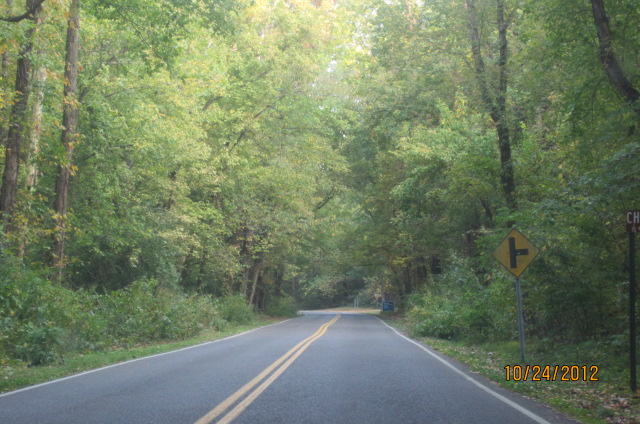 Road to Chucalissa
Memphis, the "Home of the Blues and Birthplace of Rock 'n' Roll," had much more than the wayside traveler could possibly do in 72 hours. There was Elvis Presley's Graceland, the Pink Palace, and Mud Island--each of which could fill up an afternoon.
However, upon the advice of friends, I found myself in old town Memphis. Near the Convention Center one can board the old-fashioned trolley with stops including the Rock 'n' Soul Museum, and National Civil Rights Museum (built against Lorraine Motel).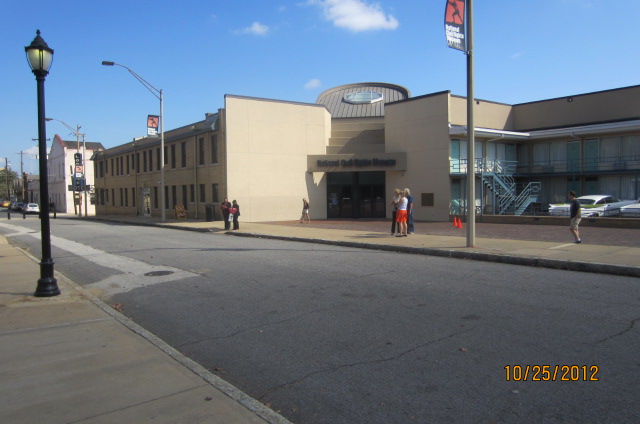 National Civil Rights Museum
The Rock 'n' Soul Museum offers a comprehensive overview of pioneers in the rhythm and blues recording industry and originators of the eclectic Memphis Sound. There are lots of memorabilia on display, and the MP3 audio-guided tour includes tasty musical sound bites.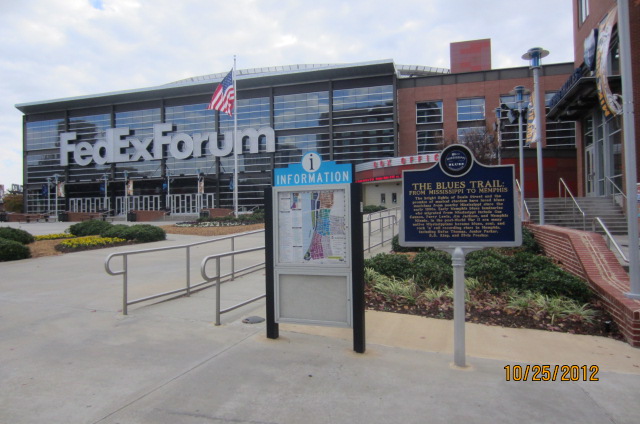 Discover Sun Records, Women DJs, and Southern music
One unexpected surprise for me was the Belz (aka Peabody Place) Museum of Memphis. Developed through the acquisitions of Jack and Marilyn Belz, this museum offers a distinctive collection of Luohan Buddhist Jades, and world-class Judaic Art sculptures and paintings. These divine inspirations date from the Qing dynasty.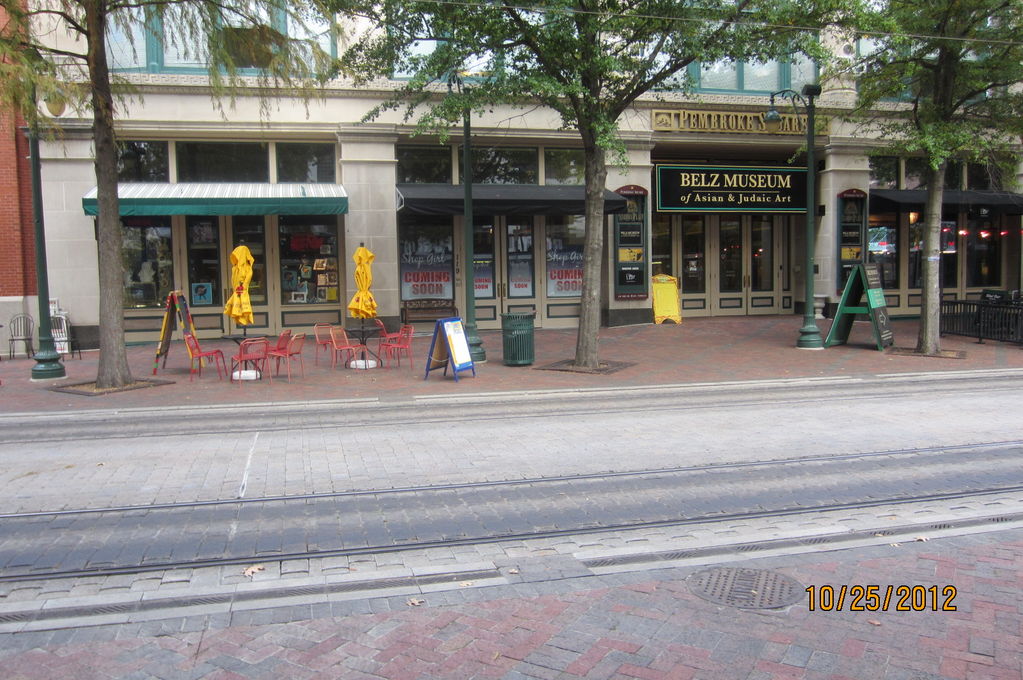 Belz Museum at Peabody Place
For food connoisseurs, Main Street has many offerings, but it can't stand to sizzle with Beale Street after sun down! For romantics, there are even horse-drawn carriages trotting along Main Street during the evenings, and also taxis awaiting the late night partiers. The spontaneous blues jams, arts and crafts booths, record stores, and street party are pretty much open to the public. Here's a pic from listening to a great blues concert by Kokomojo playing at Handy Park.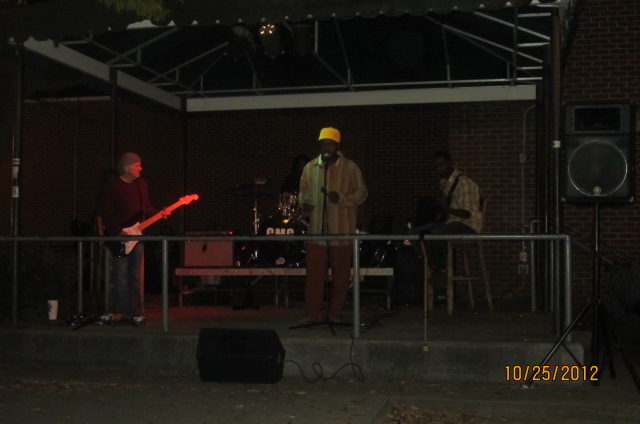 Kokomojo Playing at Handy Park
All in all, my stay in this charming region was tinctured with hospitality; I wanted to visit the Stax Museum, Elmwood Cemetery, and also the archeological mounds. In "International Exposure," Memphis Convention and Visitors Bureau president and CEO Kevin Kane stated, "There is a very positive allure of being from Memphis and having that Memphis connection. We basically export it to the rest of the world." Whether it's exporting culture or entertaining visitors, Memphis is quite the model of creativity and dynamic business opportunity.
Sources:
Baker, Sarah. "International Exposure." The Daily News. 25 Oct. 2012.
Photos and travel article prepared by Christine H. Kroll
****************************************************************************************
For permission to reprint articles, please contact: inquiry@columbiapress.org.
How to Cite Any of the Above Articles Using MLA Format:
"Name of Article." Asian-American Forum. Columbia Press, Winter 2013. Web. Date of Access. <www.blu-geese.org>
How to Cite Any of the Above Articles Using APA Format:
Wong, C. (2013). Name of article. Asian-American Forum, 16. Retrieved from http://www.blu-geese.org/
Past Newsletters
Disclaimer

: Asian-American forum is a free e-Newsletter published by Blu-Geese.org. The views expressed vary seasonally, like the winds, with content subject to adjustments, editing, and revisions. The facts, names, and dates in creative non-fiction works are fictive; all referenced works remain the copyright of their respective owners. For information regarding contributions or permission to reprint articles, contact

inquiry@columbiapress.org
Copyright 2009-2013 by Columbia Press, All Rights Reserved.